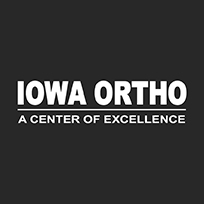 Iowa Ortho has a number of policies in place to protect our patients and staff from the spread of COVID-19. We are committed to delivering the highest quality orthopedic care, and are monitoring the situation regularly to determine how best to service our patients. Please call our office at 515-247-8400 if you have any questions.
Appointment Information
Please call 515-247-8400 to cancel your appointment if you have had and/or are currently experiencing symptoms such as cough, fever, flu, or cold-like symptoms.
All patients and visitors are encouraged to participate in face masking or covering. Review the below tutorials to create a homemade mask. Face masks will not be provided.
We have implemented best practices regarding social distancing during this time, and are limiting the number of people accompanying patients to appointments:

Patients who are minors may be accompanied by 1 caregiver to their appointment
Adult patients will be asked to come to their appointment alone
Patients who are unable to ambulate (unable to walk and/or are in need of wheelchair assistance), may be accompanied by 1 caregiver to their appointment
Adult patients who need transportation, or who have someone drive them to their appointment, must have their driver remain outside of our facilities during the patient's appointment
Work Comp patients are allowed to have a Case Manager attend if appropriate

All patients and visitors will be screened for fever and lower respiratory symptoms upon entry at all clinics. If you exhibit any of these symptoms, you may be asked to reschedule your appointment for a later date.

Temperatures must be below 100.4 degrees Fahrenheit.

Leave personal belongings in your vehicle or at home (back packs, laptops, bags). We ask that you only bring in the necessary items needed for your appointment – photo ID, insurance card, and form of payment.
If your appointment is scheduled to take place at the downtown Des Moines Iowa Ortho clinic, please enter through the West doors under the awning, Suite A.
Patients with urgent surgical needs will continue to be treated, and if you have a surgery currently scheduled, your surgeon's nurse will be contacting you make any necessary adjustments to your plan of care.

Should you need to speak with a nurse about surgery, please call 515-247-8400 and ask to be directed to Surgery Scheduling.
Elective Surgery Information: 
COVID-19 Resources: