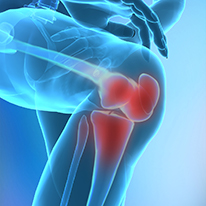 The COVID-19 pandemic presented our patients with the unfortunate situation of a delay in elective surgeries. We understand the disappointment that this has caused to those suffering from joint pain and discomfort. Now that elective surgeries may resume in the state of Iowa, our team is working diligently to schedule patients whose joint replacements were post-poned.
What can you do in the meantime while you are waiting for your surgery? Our joint replacement physicians, Dr. Matthes, Dr. Beecher, Dr. Mahoney, and Dr. Aderibigbe, weighed in with some helpful tips and tricks to minimize pain while promoting surgery success.
Continue to social distance
Social distancing must be continued to remain healthy and prevent further delay in surgery. If you have been diagnosed with COVID-19 and have an upcoming appointment or surgery, please notify our office by calling 515-247-8400. Our first priority is the health and safety of all patients and staff.
Don't "let yourself go"
You have likely been preparing for this joint replacement procedure for several weeks, following recommendations given by your Iowa Ortho physician. We understand that these difficult times lead to habits such as increased TV watching, snacking, and lack of exercise. Don't let these temporary habits effect your physical and mental health.
Maintain a healthy diet
Maintaining a healthy diet prior to joint replacement surgery is essential to the healing process. Eat well balanced meals including plenty of protein. This will help your body recover and will help in maintaining and perhaps even losing weight. Starvation diets are never the answer and can deprive the body of important nutrients that are needed to help fuel your recovery.
Participate in low impact exercise
Low impact exercise will help maintain the strength of your muscles, bones, and joints while preserving range of motion. Examples of low impact exercise include walking, stationary bicycling, elliptical training, yoga, swimming, and light weight training. Specific exercises for hip and knee replacement include working your core muscles (sit-ups, back extensions), quadriceps strengthening (thigh muscles), and hip abductor strengthening (buttock muscles).
Monitor overall health
Paying close attention to your overall health is very important prior to any surgery. Things such as checking your blood pressure, weighing yourself periodically, and checking blood sugar (if you are diabetic) are all ways to monitor your overall health. If you notice changes that cause concern, contact your primary care physician.
Heat, Ice, Massage
Depending on which is most comfortable for you, ice, heat, and/or massage can be a simple and beneficial way to reduce pain and swelling of the affected arthritic joint.
Pay attention to pain medications you are taking
In general, taking pain medications, such as narcotics, prior to surgery is not beneficial and may make it more difficult to achieve good pain control after surgery. If you need to take something to help with the pain caused by arthritis, we suggest Tylenol (acetaminophen), over-the-counter topical, prescription creams or patches, and anti-inflammatory medications (Aleve, Ibuprofen, prescription). Check with us or your primary care physician if you aren't sure if you can take anti-inflammatories. Injections are a possibility to help with pain as well, but note that we usually need to wait at least three months before doing a joint replacement after having a cortisone injection in that same joint.
Maintain communication with your Iowa Ortho physician
If you notice changes in your affected joint or have concerns about any orthopedic health problem. Contact our offices. You may be a great candidate for a virtual visit to discuss if you need to be seen in our office.
Keep a positive attitude
This delay in surgery won't last forever and in the end, is likely only a short detour on your road to recovery. You might find your scheduled surgery coming up before you know it!
As always, call or text our office at 515-247-8400 if you have questions or concerns about your elective surgery – we are here for you!