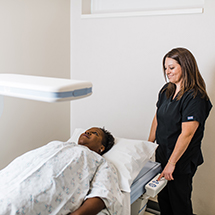 You just took the first step in leaning into your health- you're getting educated on ways to prepare for your future and live your best life. If you plan to receive a Body Composition DEXA scan, Iowa Ortho wants to prepare you for what you can expect during your experience. The Body Composition Dexa scan accurately determines your body's fat, muscle, and bone density distribution, so you can target specific areas where you deposit more body fat. This test is a great resource for both athletes who are looking to better their performance, as well as non-athletes who are beginning a healthier lifestyle. The test can also help medical professionals predict your likelihood of diseases that correlate with a certain body fat percentage. This tool can help you monitor changes in your body overtime.
Body Composition DEXA scans take place in Iowa Ortho's Imaging Center, which is located on the East side of the Downtown Des Moines Clinic at 450 Laurel Street. You will park in the Mercy River Hills parking lot and enter the Imaging Suite.
After you check in, the front desk staff will lead you to where you place your belongings, change your clothing, and wait for your scan to be completed. Iowa Ortho provides individual lockers with locks that stay with you the entire appointment. You will change into a dressing gown and remove all jewelry. Iowa Ortho gives you a plush, floor-length robe to feel comfortable in the waiting area.
A radiology tech nurse leads you into the DEXA scan room where you lay down to complete the DEXA scan. This is a full body table and your job is to lay still until the scan is complete, which usually takes less than 10 minutes. The nurse will tape your toes together- yes, tape your toes together so you can lay still through the scan. Staying completely still is the only way to get accurate results, so this technique is standard. This scan will not hurt at all! It is simply taking snapshots of the tissues in your body.
After the DEXA scan is complete, you will receive a packet with your body composition results and a personalized action plan to maximize your muscle mass. Iowa Ortho's results packet is like walking you through a personalized appointment. Result packets have your individual information in them, plus a step-by-step guide to walk you through multiple medical charts. You will have a clear understanding of your body composition at the deepest level leaving Iowa Ortho's DEXA scan.
Schedule your second Body Composition DEXA scan to compare both results! Iowa Ortho suggests two scans to monitor your progress over a period of time.
Iowa Ortho is one of the few facilities in the metro offering the DEXA scan, which is a medical-grade scan, highly recommended by medical professionals. The price is also unbeatable. One scan is $40. To learn more about the Body Composition DEXA scan, call Iowa Ortho. You can also request an appointment online.