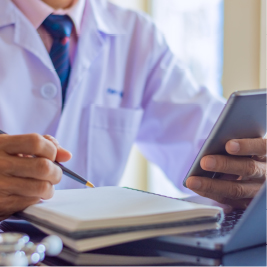 Iowa Ortho now offers virtual visits, an extension of our telehealth services. Through our secure video connection platform, patients can connect with their Iowa Ortho physician from the comfort and safety of their home.
Telehealth is the use of digital information and communication technologies, such as computers and mobile devices, to access health care services and information remotely. Virtual visits are a form of telehealth in addition to patient portals, personal health applications, electronic health records, remote monitoring devices, and much more.
Modern day telehealth came into the picture in the late 1950s/early 1960s at the University of Nebraska. At this time, while utilizing live television and the telephone, healthcare professionals interacted with patients and sent/received medical documents. When the internet was born in the 1900s, telehealth became more widely used. Globally interconnected computer networks now allows for fast/simple patient care and access to information no matter the patient or provider's geographic location.
Perhaps the greatest benefit of telehealth is virtual visits and their ability to provide medical care to rural and medically under-served communities. These communities may lack access to specialized medical professionals, forcing patients needing care to drive long distances, or ignore their symptoms due to the inconvenience of travel or lack of reliable transportation. With a few clicks on a smart device, virtual visits can now bridge this gap between patient and medical provider.
Physicians utilizing virtual visits can do everything from initial consultations, diagnosis, follow-up visits, remote monitoring, and much more depending on the problem the patient is experiencing. This service is a way for physicians to determine if the patients with a health concern needs to be seen in a clinic before they drive long distances – saving time and money.
Additional Benefits of Virtual Visits:
Visits can take place in the comfort and safety of the patient's home
No time spent in a waiting room
Increased efficiency of care delivery
Increased patient and provider engagement
No need to find child or dependent adult care
Eliminate travel time and expenses
Overall cost-savings
Telehealth is an ever changing field of medicine. With technology always evolving, there are limitless possibilities for the future. Today, over 90 percent of health care executives say that their organizations are developing or currently utilizing a telehealth application. Iowa Ortho is excited to be a part of this innovative field of medicine through the implementation of virtual visits. Call us today at 515-247-8400 to learn if your health concerns are appropriate for a virtual visit consultation.