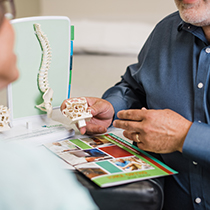 In the U.S., more than 54 million people either already have osteoporosis or are at high risk of the disease due to low bone density. Osteoporosis-related bone fractures are responsible for more hospitalizations than heart attacks, strokes, and breast cancer combined. A recent study released by the National Osteoporosis Foundation (NOF) found that these high-risk patients remain untreated despite knowing of their increased fracture risk.
At Iowa Ortho, our Bone Health Clinic is available for patients to meet with our team of specialists to review personal and family health history and perform appropriate screening. Our personalized treatment plans begin with a clinic consultation and may be followed with lab tests, X-rays, a FRAX assessment, and bone density scanning.  Our specialists will also discuss how to use preventative measures that help increase bone density and decrease the risk of future fracture.
Bone health risk factors are both controllable and uncontrollable. Areas within your control include bone density screenings, consuming adequate calcium and Vitamin D in your diet, eating enough fruits and vegetables, getting appropriate exercise, and avoiding smoking.  Uncontrollable factors are age (over 50), menopause, a family history of osteoporosis, and low body weight.
Our Bone Health Clinic ensures patients know exactly how to protect their bones while teaching them preventative measures so they can remain active. Call us today at 515-247-8400 to schedule an appointment with one of our bone health specialists to understand your unique risks and help you stay bone strong.
The National Osteoporosis Foundation (NOF) website offers important information and resources about risks related to osteoporosis, fractures and treatment. Visit www.NOF.org for these resources and more.