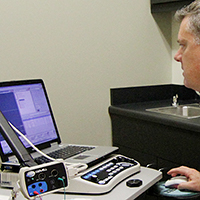 What is EMG & NCS Testing?
An electromyography (EMG) tests the electrical activity of muscles and a nerve conduction study (NCS) measures the conducting function of nerves. Many times EMG testing is performed in conjunction with NCS testing. Risks apply to each test.
Why are the tests important?
In some medical conditions, the electrical activity of the muscles or nerves is abnormal. An EMG and/or NCS can detect these abnormal muscle and nerve properties and provide specific detailed reporting as to how your muscles and nerves are functioning. This information will greatly aid in determining an accurate diagnosis and appropriate treatment plan.
Electrodiagnostic testing can assist with the diagnosis of nerve compression or injuries such as carpal tunnel syndrome, lumbar or cervical nerve root compression or injury. EMG and NCS testing also aid in determining the cause of abnormal sensations, fatigue, numbness, pain, spasms, weakness, and other muscle and nerve issues.
NCS
To perform nerve conduction studies, the physician uses small electrodes on the skin and applies a brief electric stimulus to one portion of a nerve. This nerve stimulation will cause a tingling sensation. The physician can then evaluate the electric response of the nerve, or muscle to which the nerve is attached, and determine if the nerve impulse is of normal size or conducted at a normal speed.
EMG
During an EMG the physician analyzes the electric activity in muscles by inserting a fine needle electrode into selected muscles, which may cause mild discomfort. The needle is not used for injection and no shocks are given. The physician can then determine if the muscles are working normally by seeing the electric activity on a computer and listening to patterns over a speaker.
How do I prepare?
There are no activity restrictions before or after either test except we ask that you don't use lotion on the day of your test until after it has been completed. You should expect the tests to take between 30 to 60 minutes. There are no permanent after affects and the results of your study will be read and forwarded to the physician who ordered the test(s).
What are the special precautions?
Be sure to inform the physician if you are taking blood-thinning medications such as Coumadin, have hemophilia or a cardiac pacemaker. These require the physician to determine if the testing procedure ordered is suitable at that time. The outpatient testing schedulers will be glad to collect this information and to assist you in scheduling the appropriate test at the right time.
How do I schedule an EMG or NCS?
Our focus is to provide quality electrodiagnostic testing that is convenient for you and your family. That's why Iowa Ortho offers convenient hours each weekday for you to have your testing completed.
Since EMG and NCS are diagnostic medical studies, a referral from a physician or appropriate healthcare professional is normally required. If you have received a referral from your physician or healthcare provider, you can schedule your appointment at Iowa Ortho in person or by phone at 515-247-8400. Your physician's office or hospital emergency room staff can also call our scheduling staff to schedule an EMG or NCS for you.
Check with your insurance carrier before scheduling your test. If your insurance plan requires a referral, verify with our office that the referral has been received prior to your scheduled test. Please arrive 30 minutes prior to your scheduled test.