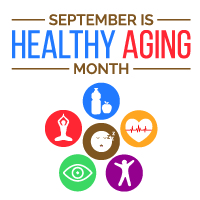 As we approach the end of September, Iowa Ortho wants to bring awareness to an important topic- the relationship between orthopedics and aging. There are many contributions to aging and it's something we cannot shake, so preparing our bodies for a healthy future is one thing we can do today.
Aging impacts our muscles, joints, bones, and more parts of the body that can alter our daily lives if not prepared for. Muscles and bones lose mass throughout time (after 30 years of age, our bone mass decreases by 3-5% per decade), which is a natural process. The decrease in bone mass is also referred to as osteoporosis, which develops in both men and women. This chronic disease effects the daily lives of individuals due to the weakening bone. Some cases of osteoporosis can be as severe as breaking bones when sneezing.
A counterpart to aging is the positive actions we can take today to improve our future health. Today, less than 10% of Americans exercise regularly and the most sedentary age group is 50. Our metabolic rate slows as we age which results in tiring easily. Exercise slows the loss in muscle mass and simultaneously improves the risk of body-fat related health conditions. Regular exercise also maintains the body's response time and its ability to effectively move oxygen throughout the body. It is recommended that people exercise daily for 30 minutes. Moving our bodies does not have to be an hour-long Cross Fit class, but it can be working in the garden for 15 minutes in the morning and going for a 15 minute leisurely-paced walk in the afternoon. Exercise can be easily achieved by dividing the recommended 30 minutes into different times of the day. Check in on your overall health with a Body Composition Analysis using our DEXA Scanner. This will give you a baseline to monitor the changes in your body's fat, muscle, and bones as you age.
Iowa Ortho has an entire team of orthopedic surgeons that specializes in different areas based on your concern. Our specialists partner with the National Osteoporosis Foundation, International Osteoporosis Foundation, International Society for Clinical Densitometry, and American Society of Bone and Mineral Research to stay up-to-date on the latest treatment and technologies to treat osteoporosis and bone disease. Iowa Ortho offers several health services that can prepare you for the process of aging. Call today to schedule your Bone Health Clinic consultation to learn more about healthy aging from our experts!