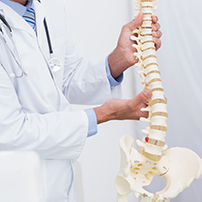 Are you considering seeing a specialist for back or neck pain from an injury or chronic condition? You may not know whether to seek care from an orthopedic surgeon or a neurosurgeon. While we recommend visiting your primary care provider to help in your decision making process, we have outlined a few pieces of information for you to consider.
Both neurosurgeons and orthopedic surgeons are qualified to treat neck and back pain. The main difference between an orthopedic spine surgeon and a neurosurgeon is in their training. Neurosurgeons are trained in the diagnosis and surgical treatment of disorders of the central and peripheral nervous system including congenital anomalies, trauma, tumors, vascular disorders, infections of the brain or spine, stroke, and degenerative diseases of the spine. Orthopedic surgeons are specifically trained in the prevention, diagnosis, and treatment of disorders of the bones, joints, ligaments, tendons, and muscles of the spine and neck. Therefore, it is important that patients understand their condition and research which physician specialty is most relevant to their case.
Iowa Ortho has developed a Spine and Pain Center within our clinics. If you have an appointment with one of our spine physicians, and they make a referral to a pain management physician or physical medicine and rehabilitation specialist, the process is simple. The Spine and Pain Center is a great option for patients who are seeking comprehensive treatment plans through multiple care channels, with the convenience of these services being at the same location.
Are you interested in learning if an Iowa Ortho spine surgeon can help with your back pain or back injury? Request an appointment with Iowa Ortho's spine specialists Dr. Trevor Schmitz or Dr. Brett Rosenthal by calling 515-247-8400.