Paying it Forward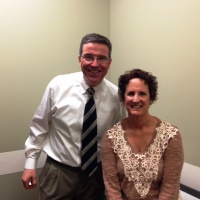 Physician: Craig Mahoney
Patient: Sheri
At 60-yeas-old, Sheri had dealt with hip pain throughout her entire adult life—that is until September of last year.
The journey that led Sheri to have both of her hips replaced was a long one. The pain in her hips came from her years as an athlete, and a family history of hip problems. Over time, her active career as an nurse only made matters even worse.
After seeking medical attention, Sheri learned that she had a torn labrum paired with hip arthritis that could only be fixed with a total hip replacement surgery. She decided to have her right hip replaced at Iowa Ortho with hip and knee surgeon Dr. Craig Mahoney. This was pretty humbling for Sheri, who at the time was just 48.
Fast-forward 11 years to May 2014 when Sherri and her husband were on their way to visit their son, and had to race through the Denver airport to catch a flight. She almost missed the plane because she couldn't run fast enough. Her left hip was in a great deal of pain by the time they got to Seattle.
At that point, she knew it was time to have her other hip replaced. The increasing pain was greatly affecting how she lived her life. A few months later, Dr. Mahoney replaced Shei's left hip.  Both Dr. Mahoney and Sheri couldn't be happier with the results of the two surgeries.
"For the first time in my adult life, I do not have hip pain," says Sheri. "It's almost emotional to be able to sit here and say that."
Three weeks after her second surgery, Sheri was able to return to work. She has also been able to return to the gym to power walk, bike and use the elliptical machine. In addition, she no longer experiences pain while lying in bed, riding in the car or playing with her four grandchildren.
"Sheri is one of the most motivated, positive patients I have ever met," says Dr. Mahoney.  "I am honored that she selected me to be her doctor."
"I'm not big on having attention on me," says Sheri, when she contemplates whether or not to share her story with others. But then her husband reminds her, "Remember how you said you wanted to pay it forward?"
Sheri hopes that her story and great experience at Iowa Ortho will encourage those who are weighing the pros and cons of hip replacement surgery to go for it.