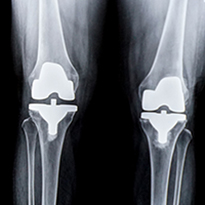 Having a surgical procedure of any kind can elicit anxiety. At Iowa Ortho we want to help ease nerves by educating our patients on what they can expect leading up to and during their knee replacement surgery (also known as knee arthroplasty).
Before the procedure:
When you arrive at the hospital, you will check in at the Patient Registration Desk. Following check-in, you will be taken to the Pre-Surgery Department. In Pre-Surgery, a nurse will review your health history and medications before starting you on an intravenous (IV) line. This nurse will also provide you with any necessary paperwork to be signed.
Next, you will meet with an anesthesiologist to discuss which type of anesthesia you will be given. There are three types of anesthesia available:
General anesthesia: This option will put you completely to sleep. A breathing tube is inserted to control your breathing.
Spinal anesthesia: This option involves the injection of a local anesthetic into your lower back to provide numbness, loss of pain and/or loss of sensation to the lower half of your body. Typically, you will regain sensation within three hours.
The anesthesiologist will discuss administering a nerve block prior to going to the OR. This is an ultrasound guided injection to help with post-operative pain relief and can last up to approximately twelve hours.
You will also meet with your surgeon to discuss any last minute questions or concerns. When your surgeon is ready for you, the circulating nurse will transfer you to the operating room on a bed. Upon entering the OR, you will be introduced to the staff assisting the surgeon. You will notice some of the operating room staff wearing what many like to call a "space suit." This is a form of personal protective equipment used to keep the field sterile and the staff safe from exposure to blood borne pathogens. Staff will assist in moving you to the operating room table. If you have spinal anesthesia, the anesthesiologist will confirm the block is working and will then begin making you sleepy. If you have opted for general anesthesia, the anesthesiologist will drift you off to sleep completely before placing an endotracheal tube.
During the procedure:
During your surgery the surgeon removes damaged cartilage and bone from the surface of the knee joint and replaces the area with metal and plastic components. It is normal to hear the noise from the saw and instruments at times during the procedure but you will not feel any pain. Your anesthesiologist will monitor your vitals the entirety of the procedure. Once the surgery is complete you will be moved back to a stretcher and transferred to the recovery room.
After the procedure:
The recovery nurses will help control your pain while you continue to rest for one to two hours. Once your anesthesia begins to wear off, your pain is controlled and your vitals are stable you will be transferred to your room where you will be able to see your family. Most knee replacement patients are able to walk within the same day or the day after surgery. During your hospital stay you will work with physical therapy. They will show you exercises to help strengthen your new knee, walk with you in the halls, and teach you the best way to go up and down the stairs. Three to six weeks after surgery you generally can resume most daily activities.
If you are having knee pain, decreased mobility, or have questions about knee replacement surgery, contact our office and we will schedule an appointment with one of our expert knee specialists at Iowa Ortho!