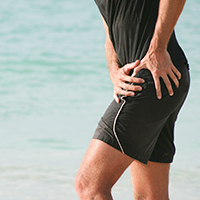 Having a hip replaced may sound like an overwhelming prospect, but with today's medical techniques the surgery and recovery may not be as daunting as it once was.
The hip replacement specialists at Iowa Ortho have the expertise and skill to get you back on your feet in no time. In fact, you can be home from surgery as early as the next day. How is this possible you ask? At Iowa Ortho we have taken all the necessary steps to ensure you have a full understanding of what to expect from a total hip replacement.
After your initial diagnosis and discussion with your Iowa Ortho physician, you will be advised to attend the Joint Camp program to fully prepare you and manage your recovery from a joint replacement surgery. As part of your camp experience, you will need to choose a camp helper (family member or friend) to help you during your hospital stay and after you return home.
Camp will start with a group class about 2 weeks prior to your surgery. During the class you will learn what you will need to know about your surgery, hospital stay and recovery at home. This will include:
Presentations from physical and occupational therapy providers
Demonstrations of equipment you may need during your recovery
Pre-registration for your surgery
Enrollment in the patient portal so you can view your medical records online
Your pre-surgery Instructions
Virtual tour of the places you will visit during your hospital stay
You may need some assistance once you return home. Your joint camp helper should continue to provide support by checking on you often and assisting you with getting up, when necessary. You may also require additional resources such as medical supplies, home health services, and physical or occupational therapy.
Most hip replacement patients are able to walk within the same day or next day of surgery; most can resume normal routine activities within the first 3 to 6 weeks of their total hip replacement recovery. Once light activity becomes possible, it's important to incorporate healthy exercise into your recovery program. The good news is, hip replacement patients often report little to no pain around the 1-3 week mark.
If you are having issues or have questions about hip replacement surgery, contact our office at 515-247-8400 and we will schedule a consultation with one of our expert hip specialists at Iowa Ortho.