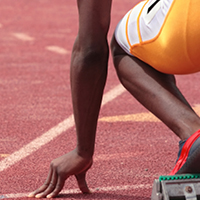 Who's ready for spring sports to start? As we are all eager to get outside and cheer on our favorite athletes, Iowa Ortho wants to make that transition to being active safe. Severe injuries can keep you from doing what you love. If you are injured, Iowa Ortho's elite Sports Medicine specialists will ensure your safety is top of mind to get you back to your sports faster.
So, what is Sports Medicine? In the field of Orthopedics, the Sports Medicine sub-specialty focuses on the diagnosis and treatment of musculoskeletal injuries brought on by athletics, exercise, and activity. Our team covers all areas of the body that relates to these specified conditions:
ACL
MCL
Sprains
Strains
Fractures
Joint Dislocation
Tendinitis
Stress Fractures
Cartilage and ligament injuries
From diagnosis to recovery, our goal is to help you quickly return to your favorite physical activities at top performance levels. Accidents can happen. Athletes may experience wear and tear over time that an average person does not. Sudden injuries are also common when we push our bodies to the limit. We have put together helpful tips to prevent missing out on your sport's season!
Warm-up! The springtime can still bring colder temperatures, so warming up properly before a track meet or soccer game dramatically impacts your performance. Warming up is the combination of preparing our muscles for activity, increasing our heart rates, loosening the joints, increasing blood flow to our muscles, and warming up for 20-30 minutes before rigorous physical activity is crucial for peak performance.
Do NOT play through pain. Pain is a way for our bodies to show that something is wrong and we need to rest. Continuing activity through pain may result in more severe injuries.
Wear appropriate gear. Wear protection to keep your body safe, especially if you participate in contact sports.
Have a plan set in place if you do get hurt. Know your surrounding orthopedic clinics and urgent care. Iowa Ortho has 13 locations spread across the Des Moines metro and surrounding communities. Iowa Ortho's Injury Urgent Care is offered at our Ankeny and Downtown Des Moines locations Monday through Friday from 8 am-5 pm.
Heal faster. Heal stronger. Heal better. Please call if you would like to learn more or schedule an appointment with one of our Orthopedic Sports Medicine specialists. Request an appointment any time of day through our online appointment request.