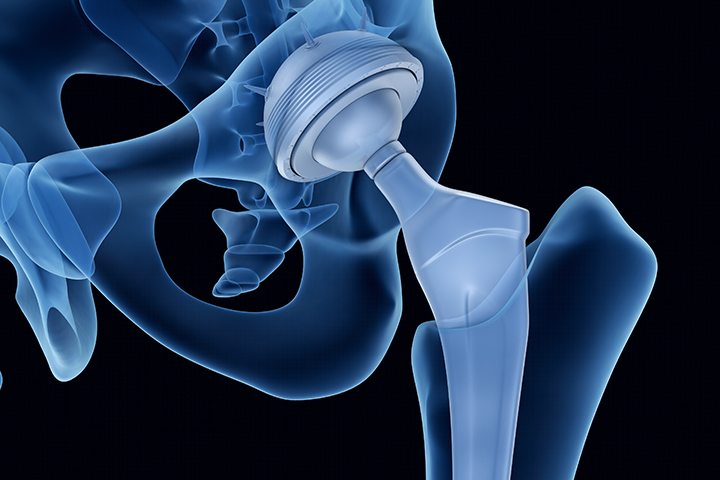 What is a direct anterior hip replacement?
Minimally invasive surgery (MIS) is an attractive option for patients who want a shorter recovery time, less pain after surgery, and smaller incision(s). The direct anterior approach for total hip replacement surgery offers these advantages. Although this approach utilizes similar implants as standard hip replacements, they are placed in a manner that allows for an accelerated recovery with a lesser need for post-operative rehabilitation. There is also a decreased risk of hip dislocation and unequal leg lengths.
The anterior approach for total hip replacement is not very common because few physicians have been trained to perform this highly technical procedure. Special instrumentation and equipment, such as the PRO-fx operating table and a special x-ray machine, are required to be able to properly and effectively execute this procedure. Iowa Ortho's Dr. Kamal Aderibigbe has been trained in the direct anterior approach for primary and revision hip surgeries.
Surgery
The standard total hip replacement incision can be up to 15 cm in length, whereas the direct anterior incision is 10 cm in length, but this can vary depending on the patient's body type. More important than the size of the incision is the procedure's gentle treatment of the muscles and tissues underneath as the hip joint is accessed from the anterior (front) rather than the lateral (side) or posterior (back). The anterior approach uses a natural plane between two muscles and by separating these two muscles, the hip joint is accessed without cutting any muscle, unlike the traditional posterior approach. During the surgery patients lie flat on their back. To correctly reproduce the patient's hip and leg lengths and minimize the risk of dislocation, the surgeon uses x-rays to properly place the implant in its exact position. The most common bearing surfaces used are ceramic on polyethylene (high medical grade plastic) or metal on polyethylene.
Rehabilitation
Muscles have to be divided and detached from the hip in order to perform the standard (posterior) total hip replacements, whereas no muscles are cut during the anterior approach. Besides cutting through the gluteal muscle (buttock muscle), most of the tendons that attach to the back of the hip have to be cut to gain access to the hip joint during the posterior approach to hip replacement. The majority of the posterior tendon of the hip are preserved during the direct anterior approach. This results in a shorter hospital stay and a faster rehabilitation period because key hip muscles such as the gluteus medius go untouched and most posterior tendons are preserved.
Physical therapy begins the very next day after surgery. It starts with sitting and standing by the bedside and rapidly progresses to walking. The majority of patients are generally ready to go home within one to two days after the procedure. Based on age and general conditioning before surgery, few patients are discharged to a rehab facility from the hospital. This short stay assists them in their recovery until they are ready to be independent again. Patients often need a walker or cane after surgery depending on their baseline condition before surgery. Following discharge, the only therapy recommended is daily walking. By one to three weeks post-surgery, most patients are walking independently without any assistive device.
Following a standard hip replacement, patients must not bend their hips past 90 degrees or cross their legs for up to 3 to 6 months. There are no such limitations after an anterior approach. Patients may also resume normal sexual activity as soon as they feel ready.
What are the risks?
There are risks with any surgical procedure. The risks below are common to all hip replacement approaches, but the incidences are much lower with the direct anterior approach.
Numbness over the lateral thigh skin (most resolve /improve without any functional limitation).

This is very rare with the direct anterior approach because using x-ray in surgery decreases this risk significantly.

Blood clots (deep venous thrombosis). Patients are required to take a blood thinner for 30 days after surgery to prevent blood clots.
Unequal leg lengths. Using x-ray in surgery decreases this risk significantly with the direct anterior approach.
Infection (less than 1%).
Clinical Consultation
Although total hip replacements are elective procedures, they are still covered by the majority of insurance companies; however, some policies do require a small co-pay. Please call Iowa Ortho at 515-247-8400 or click here to set up an initial appointment with Dr. Aderibigbe.