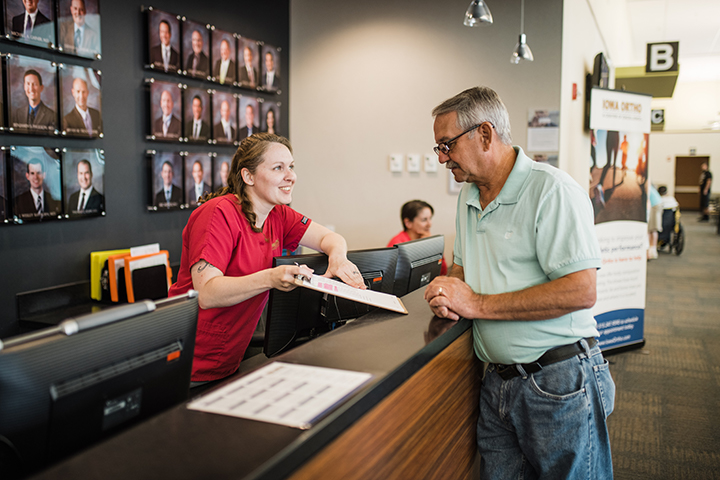 Have you ever gone to a doctors appointment and immediately following think to yourself "I forgot to ask them…." or "I forgot to tell them about…."? The success of your medical care depends on preparation prior to your appointment. Being prepared with your goals, list of symptoms, questions, etc. will result in patient confidence and a successful treatment outcome. We encourage all of our patients to follow our steps below to ensure effective communication with our doctors.
IMPORTANT: Prior to your appointment, you will have completed the Patient History Form either on our website or in-office. Therefore, we will already have access to your health history and medication information. These are very crucial items to a successful appointment at Iowa Ortho, though they are not included in our list below.
Arrive to your appointment early.
Depending on the physician you are seeing and the type of appointment, the Iowa Ortho patient representative you speak with over the phone will inform you of how early you will need to arrive. By arriving early, it will ensure as much time as possible with your doctor.
Come prepared to discuss your symptoms.
When did symptoms begin?
What makes symptoms worse?
What makes symptoms better?
What do your symptoms feel like? (examples: pinching, radiating, tingly, achy, numbness, etc.)
On a scale of 1-10 (1 – no pain, 10 – excruciating pain), how would you rate your pain?
Be honest.
Withholding information from our physicians can lead to an ineffective treatment plan – especially regarding medication, alcohol, or tobacco use. Your medical success depends on your honest communication.
Bring a list of questions you have for your provider.
At Iowa Ortho, there is no such thing as a "bad" question. Communicate your questions and concerns with your provider so that you feel well-informed and satisfied with your visit.
Example questions:
What is my diagnosis?
Will I need any additional testing? What will the results tell you?
How often do you see this condition?
Do I need to change my daily routine?
What are my treatment options? What are the benefits and risks of each option?
What are my next steps?
What is your goal with surgery?
Will I need any special medical equipment? (cane, crutches, brace, etc.)
Can you tell me about the medication you are prescribing? (side effects, dosage, what does it do, when do I take it, how do I take this medication etc..)
How long will my recovery take?
Do I need to schedule a follow up appointment?
Who can I contact if I have questions?
Bring a friend or family member.
Our physicians encourage patients to bring a friend or family member to their visit as an extra set of ears. This person can help you process information discussed during your appointment and hold you accountable to your treatment plan.
Confirm next steps.
Are you to schedule an MRI? Were you referred to a physical therapist? Does your case require surgery? Confirm with your provider that you understand your next treatment steps.
If you have any questions or concerns about your upcoming appointment, please give us a call at 515-247-8400 to speak with a patient care representative.