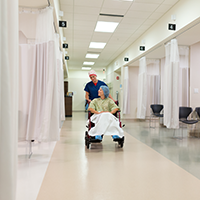 Modern minimally invasive surgery emerged in the 1980s when video monitors allowed surgeons to be able to stand, operate with both hands, and view the operation through video display. This pivotal time in the history of surgery transformed patient care and lead to continued advancements in surgical instrumentation.
In minimally invasive procedures, a surgeon operates with less injury to the body than with open surgery. Small incisions are made that allow an endoscopic device (tiny cameras) to be inserted into the surgical area. This allows surgeons to see inside the body while performing all of the necessary fixes to the area being treated. These procedures typically make for a quick recovery with less pain and scarring than an open surgery. The list of minimally invasive performed procedures is ever expanding as innovations continue to be made.
Minimally invasive procedures are often done on an outpatient basis or only require a brief hospital stay, typically just over night. Iowa Ortho has countless procedures performed using this surgical technique, including direct anterior hip replacements, hip arthroscopies, as well as spine, shoulder, knee, hand, and foot surgeries.
Call Iowa Ortho today at 515-247-8400 to schedule a consultation. Your doctor will determine if you are a good candidate for a minimally invasive surgical approach.