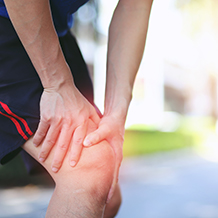 Are you considering going through a knee replacement surgery in the near future? It is very important to take steps prior to surgery to ensure a safe and successful recovery.
Develop Support Networks
Develop a network of people you can call on for advice.

The best people to talk to about your knee replacement are those who have had a knee replacement themselves. This network can provide tips and tricks that worked for them as well as provide encouragement.

Develop a network of people you can call on for assistance.

Family and friends – whomever it may be, we recommend having people available and close-by should you need help with settling into your home or performing daily tasks following surgery.
Prepare your home
While this may seem like common sense, even the smallest things like moving the peanut butter jar to a lower shelf will benefit you while you are using a cane or walker.
Consider modifying your shower. Install hand rails or purchase a shower chair to provide stability. You may also need a plastic sleeve to cover your knee if you are not able to get the area wet.
Consider your space. You will be using a cane or walker for several weeks and will need to make the appropriate preparations such as moving furniture.
Take notes at your appointments so you know what to expect
It is easy to forget what was discussed at appointments. We highly recommend taking notes or bringing a friend or family member to do so. However, as always, you can call our office with questions at any time.
Be transparent with your doctor in your post-op visits
Tell your provider what your recovery has been like. They can only help if they know what is going on.
All of the Iowa Ortho joint replacement surgeons advise patients that after 3-6 weeks of recovery and physical therapy, patients are typically able to return to most daily activities. If you are unable to do so, it is important that your surgeon sees you to determine what the cause of the issue may be.
Once you have a knee replacement, you should avoid high impact activities such as jogging, tennis, skiing, and sports that involve a lot of contact or jumping. Your Iowa Ortho doctor will discuss patient limitations following surgery.
Knee replacements provide people with the opportunity to lead a more fulfilling quality of life. The Iowa Ortho knee surgeons are skilled, experienced, and ready to discuss options with you.