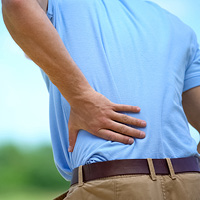 For those of you that have back pain and especially those who experience chronic back pain, you know first-hand that it is a strain in activities, relationships, and your quality of life. Pain has a way of wedging itself between you and what you love. There are many pain solutions available today as medicine and procedures advance. Choosing what is best for you and your body can be a hard decision to make, but the medical advice from an Iowa Ortho surgeon may save you from endless pain down the road. Dr. Rosenthal is a fellowship-trained orthopaedic surgeon who specializes in the treatment of disorders of the cervical, thoracic, and lumbar spine. He completed advanced training at the Harvard Combined Orthopaedic Spine Surgery fellowship under guidance from world renowned leaders in the field of spine surgery. Five of the most frequently asked questions regarding spinal disorders are shared below to educate you on conditions you may be suffering from.
What is Vertebroplasty?
This procedure injects a special cement into a fractured vertebra. Not all people with a fractured vertebra are a good candidate for vertebroplasty. It is a good option after a compression fracture that occurs with osteoporosis. Vertebroplasty is a minimally invasive treatment option offered at Iowa Ortho to relieve pain and restore mobility.
Why am I still experiencing a lot of pain after a back fusion?
Getting to the bottom of this pain depends on how much time has passed after the fusion. If the pain starts long after the fusion took place, we look above and below the fusion to see if the next level is wearing out too. Also, I look to see if the fusion never fully fused. The hardware may look good, but if the bone is never fused, pain will occur. A spinal fusion is essentially joining two vertebrae. We can order a CT scan to see if this was successful or not.
What is the best treatment for spondylolisthesis?
The spine should stack on top of each other, and if one vertebra slides in below the other, the nerves may get irritated. Conservative treatments include physical therapy, medications, and injections. If those fail to help, surgery is the next option to consider. This often requires linking the two unstable vertebra together.
What is the best exercise to strengthen the lower back?
If you have a weaker lower back, core exercises are essential. Core exercises like crunches are not always a good option because of the repetitive bending, so focus on plank-type exercises like pushups. There are many variations to accomplish this exercise depending on your fitness and pain level.
For laminectomy surgery, how do you identify which areas of the spine will need surgery?
Each patient's tailored plan of care is based on medical history and an MRI. A laminectomy is a surgery that involves unroofing the spinal canal and making more room for the nerves. To identify how many levels, we look at the MRI to see the tight areas needing decompressing.
The possibility of surgery can lead our minds to wonder down the path of the unknown. Proper support from family and your surgeon are crucial to supplement your comfort through this process. It's important to Dr. Rosenthal to provide treatment options ranging from minimally-invasive to aggressive approaches, like surgery. To learn more about Dr. Rosenthal, check out his provider page. Iowa Ortho is a leader in orthopaedics and is known for its modern techniques. To consult with one of our doctors regarding your conditions, please contact Iowa Ortho or you can request an appointment online.