Brittany's Story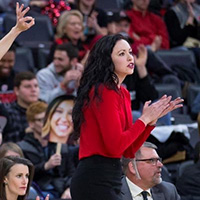 I played college basketball and tore my Achilles tendon in 2011 after previously having other ankle injuries and surgeries. The tear lead to a full Achilles repair surgery. Following the initial surgery, I experienced complications such as suture rejections and tendinosis, leading to another surgery in 2013. Since then, I had only regained 50% of my full strength back, and had limited function and range of motion in my ankle. In 2020, I started experiencing issues that led to compensation pain on the other side of my body.
After having some frustrating consultations and receiving treatment plans that provided no pain relief, I was recommended to Dr. Trout by my brother, who had also had an Achilles repair done by him. I had a consultation with Dr. Trout and he expressed equal concern about the poor state of my Achilles and lack of function. He offered a real solution of a full re-repair of my Achilles. He displayed confidence and determination in his ability to improve my function and appearance of my ankle rather than offer a 'band-aid' solution I was previously receiving.
After my initial consultation with Dr. Trout, I attended physical therapy for 4-6 weeks prior to surgery to help regain strength. Dr. Trout then performed a full Achilles repair, removing sutures from previous surgeries and replacing them with dissolvable sutures. Additionally he cleaned out old scar tissue and preformed a rare 'Z-procedure' to shorten my tendon.
I was impressed with Dr. Trout's confidence to take on a rare challenge of improving a very damaged case back to full function. He expressed true concern with my current state and situation and was creative in his diagnosis and plan to avoid future complications. He was extremely honest and to the point with the potential risks with this type of procedure. I felt confident and reassured by the plan because of Dr. Trout being so well thought out and confident.
Dr. Trout has impacted my quality of life for the better more than I can even express. I have had years of experience in the athletic world and with medical personnel to confidently say that he is one of the best at what he does. I am eternally grateful for his talent and commitment to see me return to the best physical version of myself, even post athletic career. My expectations were exceeded.
Just 10 days post-surgery, I visibly had a better-looking Achilles/ankle than before surgery. At 4 months post-surgery I have higher function than I had at any time between 2011 and 2022. I was not able to do a single-leg calf raise since the original injury in 2011, and currently I am at 4.5 months post-surgery and I can jog, cut, single-leg jump, single-leg calf raise, and perform athletic movements at a fairly normal level.
I expect my improvement to continue to grow. I have little to no compensation pain anymore, which was a huge concern that was leading me down a path to tear or injure my opposite Achilles. I did not know regaining this level of function was possible for me prior to meeting Dr. Trout. He has given me confidence that I can resume my true level of activity and quality of life again.