Michael's Story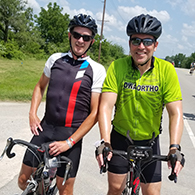 I was on my way to an orchestra concert and slipped in the parking lot, landing fully on my right hip. Needless to say this was not planned and the surgery to replace the hip was not either. I was tentatively set for a Monday morning surgery, however, Dr. Mahoney was the on-call surgeon for the weekend and agreed to come in to take care of me early. 
I was wheeled down for the surgery at 7AM that Sunday morning. The first question my wife had when she met us in triage was "how long would it be until he can get back on his bike?" as cycling has been an important part of our lives for years. We were told it wouldn't be very long. Surgery went well and that afternoon I took my first laps around the hospital floor. I spent the next 6 weeks walking daily and riding an exercise bike at our gym. After 6 weeks, Dr. Mahoney and his staff gave me clearance to get back on my bike, just not outside until the weather cooperated.
Dr. Mahoney and his staff have been nothing but fantastic and encouraged me in my recovery goals the entire way. I would recommend him to anyone needing (planned or not) this replacement surgery. Without their efforts and encouragement, I would not have been able to meet my main goal for the first 6 months after the surgery, completing the full week of RAGBRAI. This was made even better when I rode with Dr. Mahoney for several miles on one of the days.