Paul's Story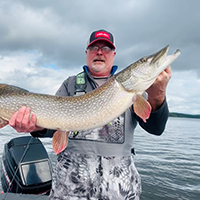 I started experiencing shoulder pain last fall and decided that I needed to schedule an appointment with an orthopedic specialist. My daughter works at Iowa Ortho and suggested I see sports medicine physician, Dr. Tim Vinyard. Following my initial evaluation with Dr. Vinyard, I was scheduled for an MRI. The results of the MRI indicated that I had a torn rotator cuff and would need to undergo surgery to repair the injury.
My surgery went very smoothly along with recovery, which entailed three months of physical therapy and at-home exercises. Dr. Vinyard clearly explained his recovery expectations for me and after a couple of months; I was ready to get back to my daily activities!
What I appreciated most about Dr. Vinyard's care is that he always took the time to answer my questions and realistically explained the surgery and recovery process. He understood my retirement goals (golf, fishing, exercise) and he guided me to getting back to these activities as safely and quickly as possible.
Since the procedure and recovery, I have been cleared to do the things I have wanted to do in retirement! I caught one of my largest northern pikes (measuring 40 inches) in Canada a week ago! I look forward to enjoying my retirement without aches and pains in my shoulder thanks to Dr. Vinyard and Iowa Ortho.