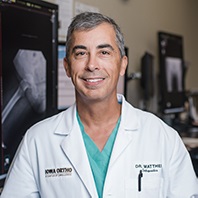 If you've been told that you need a knee replacement, you're probably wondering, "What is the recovery going to be like?" It's totally normal to be feeling nervous about a surgery! At Iowa Ortho, our doctors do everything they can to make your recovery from a total knee replacement surgery as easy as possible.
Iowa Ortho's very own, Dr. Mark Matthes, states the importance of getting patients up and walking when they wake up from surgery. You read that right- you'll be able to walk, full weight bearing, with an assistive device (i.e. a walker) immediately after your surgery. This prevents things like blood clots, swelling, and stiffness. It also helps to start strengthening the muscles around your knee, which is important for recovery. A tool Dr. Matthes likes to use during a total knee replacement surgery is a spinal anesthetic. This is different from general anesthesia. Dr. Matthes sees a significant difference in patients with a spinal anesthetic because they can get up and moving quicker without all the grogginess and side effects from general anesthesia.
Now you're probably also wondering about what kind of pain you will experience post-op. Dr. Matthes says, "by incorporating a 'multi-modal' pain control approach, we are able to achieve very good pain relief post-operatively while also decreasing the need for strong pain medications. This involves utilizing a spectrum of different medications and treatments not only after surgery, but also before and during surgery. These would include non-narcotic pain medications, anti-inflammatories, nerve pain signal inhibitors, cold therapy, a short course of steroids, and a mixture of long acting local anesthetic and other analgesics administered to the joint and surrounding tissues in surgery. Our anesthesia colleagues can also help with post-operative pain through selective long acting nerve blocks for knee replacements that can help decrease pain and narcotic medication requirements for the first 24 hours after surgery."
Wondering how much time you'll spend in the hospital? Not very long at all! Time spent in the hospital after a total knee replacement has dramatically decreased over the years. Every patient has different circumstances, but most only have to spend one night in the hospital and some can go home the day of surgery.
Your recovery continues after you leave the hospital. You will work with a physical therapist to get your knee moving and your surrounding muscles stronger. It is important to go to your physical therapy appointments as prescribed by your doctor as well as doing exercises your physical therapist gives you to do at home. On average, patients spend 4-8 weeks using an assistive device to walk.
Don't forget about RICE while recovering at home!
R: rest
I: ice
C: compression
E: elevation
In total, the complete recovery time is approximately six months, but it can take up to a year to fully return to physically demanding activities.
If you have concerning knee pain or have been told that you need a knee replacement, the doctors at Iowa Ortho are here to help your pain and get you back to feeling like yourself as quickly as possible!