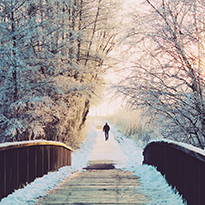 With cold weather on its way, the staff and physicians at Iowa Ortho want to make sure you are winter ready this season. Follow these tips and share with family and friends to stay safe.
Staying safe on slippery surfaces:
Wear the right shoes – Make sure your winter footwear comes with plenty of traction.
Wear gloves (instead of putting your hands in your pockets) – This will keep your hands free should you become unbalanced.
Remove snow immediately- Keep your porch, steps, and driveway clear to prevent accumulation. Don't be afraid to ask for help.
Slow down – Plan extra travel time. Your chances of falling increase when you are late and feeling rushed.
Stay active – Moving your body promotes strength, flexibility, and balance which can help reduce your risk of falling.
Make sure you are steady before entering or exiting a vehicle. Hold onto a door or another person if necessary.
Staying safe while removing snow:
Dress appropriately – Prevent injury by dressing in layers, wear gloves to keep your hands free, and slip-resistant boots.
Use the correct size shovel – A short shovel means you are bending forward which increases your chances of a back injury.
Lift with your knees – When moving heavy snow, keep your back straight and lift with your knees. Do not throw the snow over your shoulder.
Shoveling is not for everyone – Individuals who are prone to injury or have been instructed by a physician should avoid shoveling. Enlisting the help of others can be very beneficial.
Don't let safety slip your mind this winter season. To read our list of services – click here. If you have other questions, the physicians and staff at Iowa Ortho are always here to assist you. Give us a call today at 515-247-8400.